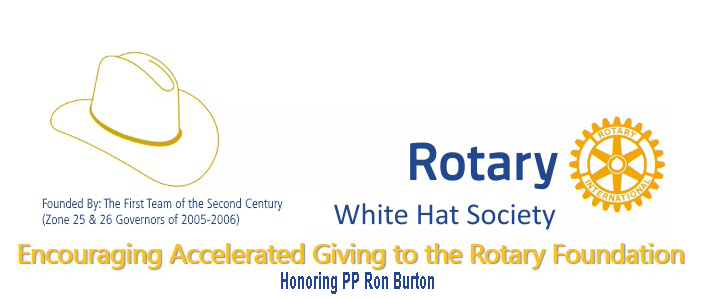 News Update: PDG Bill Bryce was the inspirational co-founder of the White Hat Society at the Zone conference in Arizona in 2004. The name and policies of the White Hats were his creation. He and Sarah were the first donors to the White Hat Society that has grown to a level of $6,935,000 in support of the Rotary Foundation. From that small beginning, it has reached Rotarians in many Districts on five continents. Bill was an articulate, highly educated Governor whose ideas still inspire the Rotary World. Past District Governor William Delf Bryce of the Rotary Club of Georgetown, Texas, District 5870 died on 30 April at the age of 88. He was a good man.
The White Hat Society was formed in September 2004 at the Rotary Institute in Scottsdale, Arizona to promote regular, significant, annual giving to the Rotary Foundation.
In May 2021, White Hat donations to the Foundation exceeded $6,000,000 US, with more than 400 members.

PDG Ed Mullen

Jeff Matera
The White Hat Society Contacts:
Chair:  PDG Ed Mullen, ed.mullen@taptrain.com
Co-Founder:  PDG Bill Bryce
White Hat Secretary:  Jeff Matera, jmatera@zfhllc.com